Welcome Sermon, Trinity Sunday, 16 June 2019
Joanna Gallant
Well it was last Trinity Sunday that I was first invited to take a service here at St Francis, and who knew that a year later I would be standing here on Trinity Sunday as vicar?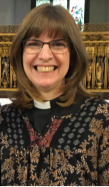 Well God did for a start! but chatting with a few folks after my licensing service on Wednesday others in the congregation had a sense that I might be too. Interestingly the Old Testament reading for last Trinity Sunday was from Isaiah 6 and I had incorporated it into my sermon, and when I quoted the last line of it as I came to the end of my sermon I felt what I can only describe as 'stirred up' by this line from the reading: Then I heard the voice of the Lord saying, 'Whom shall I send, and who will go for us?' And I said, 'Here I am; send me!'
And of course undergirding all of this, throughout the interregnum and appointment process has been the faithful prayers of all who worship here at St Francis and so as I stand here a year later as your new vicar on Trinity Sunday I can't help but notice how each member of the Trinity has been working together, not just amongst themselves but in communion with you and me to bring us to this day, talking to us through the scriptures, in our prayers, through the stirrings of the Holy Spirit and the desire of my heart to serve God by having a flock again.
And this sense of you and me working together in communion with the Holy Trinity is something I hope will continue as we move ahead together in this new season of St Francis life, because as Jesus makes clear in today's Gospel reading, the Father and the Son share all things with the Holy Spirit who makes them known to us, therefore we need to continue to be listening to what God wants to say to us about the way ahead for us a church family, by listening to and discussing what God is saying to us through the scriptures, in our prayers and through those holy nudging's of the Spirit so that they too can be discerned.;
Jesus also says, something very important that I'd like us to always hold onto as a church family and it is this: The Holy Spirit will glorify me, because he will take what is mine and declare it to you.;
The job of the Holy Spirit is to communicate to us what Jesus has for us… so that we might receive it and use it to glorify Jesus… The reason St Francis church is here in Terriers is so that Jesus might be glorified… and so as we move ahead together and make decisions about how St Francis can build God's kingdom here in Terriers we must always be asking ourselves, 'How might we best glorify Jesus with the decisions we make in the months and years ahead?';
And in our reading from the book of Romans this morning, what we have is an excerpt from St Paul's letter to the church in Rome, which like us was a church in need of encouragement and guidance… and St Paul puts the glory of Jesus front and centre of his message to them, by reminding them that Jesus is worthy of their glory…;
Because only Jesus has justified them, only Jesus has given them peace, only Jesus gives them access to the glory in which they stand… and so all they can boast in, is their hope in Jesus, because he is the means by which they will share the glory of God.;
And that message is as true for us today as it was for the church in Rome nearly 2000 years ago.;
I have promised to serve you faithfully and I will.;
I have promised to love you and I will.;
I have promised to pray for you and I will.;
I have promised to lead you and I will….;
But I am only human, I have clay feet and I will no doubt, at times during our life together, I will make mistakes. But I hope and pray that through the up's and downs of our life together, we as God's church will be a listening church… listening to God, listening to our community, listening to one another, and with humility always seeking above all else to glorify Jesus, the one in whom we have been justified, the one on whom our faith depends, the one in whose glory we can both boast and stand. Amen;