<!!! new navigation bar code starts here!!!> <!!! end of new code!!!>
News from Terriers Church
Earlier news items are available in the News Archive.
For news of special events see our 80th anniversary appeal page.
---
Warden's notices from 12 May 2013
Christian Aid week begins today. Please pick up the pack for the road or roads where you will be collecting and sign the list - or talk to Paul Beniston.
There is now a display in church about Phase 2 of our Restoration Project. If you have any ideas about possible sources of funding, please talk to Tony or the Wardens.
The parish magazine for May is now available. Please collect your copy this morning. It costs 50p.
We finally have a total for our Lent Project. The cheque that will be handed over to Rosie's Rainbow Fund will be for £2,450, which is exactly the same as we raised for Parkinson's UK last year. A big thank you to everyone who helped in any way to achieve this.
Please do note the information about services next Sunday. Both the Parish Communion and the early service are replaced by one said service at 9.30am. This will allow people time to join the "Love Wycombe" celebration on Frogmoor.
Finally: We are delighted to announce the safe arrival of Shelagh and Steve Sheppard's new grandson, Elliot Rhys Whitlock. There is a card for his parents, Charlotte and Adam, on the table at the back. Please sign it before you leave.
---
Maundy Thursday Service at Christ Church Cathedral, Oxford
This year the annual Royal Maundy Service was held for the first time at Christ Church Cathedral, Oxford. The Queen was joined by the Duke of Edinburgh in to distribute the coins in a tradition which dates back hundreds of years.

Eighty seven men and 87 women, to mark the Queen's 87th year, were given two purses of money, one red and one white. The red purse contained a £5 coin and a 50p coin commemorating the 60th anniversary of the Queen's coronation in 1953.

The white purse held the famous Maundy money, silver one, two, three and four penny pieces equal to 87 pence.

The recipients were nominated by clergy throughout the diocese of Oxford in recognition of their service to the church and community.

Joy Smith from our congregation is pictured here with the two Maundy purses she received from Her Majesty the Queen.

Mike Howlett was another recipient of Maundy money - Mike and Pam are pictured outside the Cathedral

Pictures gratefully received from Tony Dickinson
---
Harvest Display September 2012
---
Olympic Bell Ringing 27th July, 2012 at 08:12
Pictures gratefully received from Tony Dickinson.
Our ringers include Veronica and Tim Edmonds,
Emma and Zac Thomas, Ben and Jessica Atkinson.
---
Church Garden Party, July 2012
Picture gratefully received from Tim Edmonds.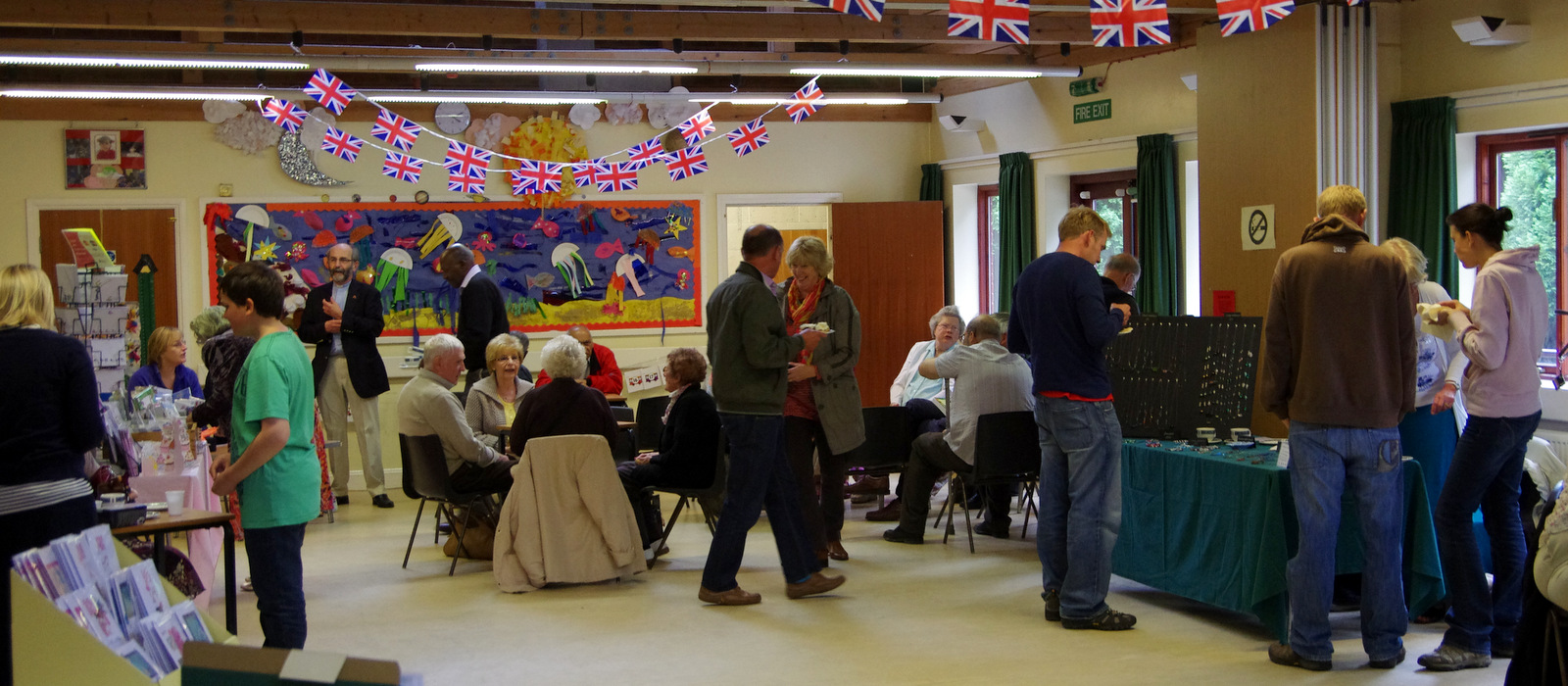 Garden party in the church hall after a very wet July.
---
Jubilee Lunch 2012
All pictures gratefully received from Tim Edmonds and Tony Dickinson.
| | |
| --- | --- |
| | |
| | |
| | |
| | Organiser extraordinaire, Liz Helps working hard in the kitchen. |
| Janet Banks won a prize for 'Best Costume'. | |